Burger's House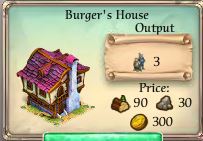 Information
Burger's House is available for purchase at Castle L3
Build limit: There can be a maximum of 5 Burger's Houses in your kingdom at once.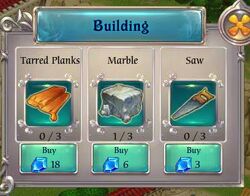 Dropped Items:
Tanned Skin
Sweets
Chocolates
Teddy Bear
Sugar
Caramel
Milk
Burger's House Upgrade Requirements

| | |
| --- | --- |
| Upgrade L2 | 15m placement timer - 120w, 500c, 60f, 50m timer |
| Upgrade L3 | 170w, 750c, 60f, 1h 40m timer |
| Upgrade L4 | 115f, 230w, 1200c, 3h timer |
Ad blocker interference detected!
Wikia is a free-to-use site that makes money from advertising. We have a modified experience for viewers using ad blockers

Wikia is not accessible if you've made further modifications. Remove the custom ad blocker rule(s) and the page will load as expected.