Garden Bed
Information
Drops
Spiteful Bug, Sweet Strawberry, Honey Bee, Lightning Bug, Straw Hat, Sharp Pitchfork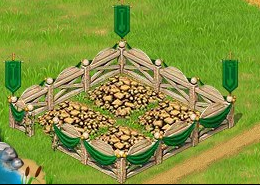 The Garden Bed is a source of food for your kingdom.
This essentially replaced energy demand in the game.
Your first Garden Bed is placed in the tutorial and a second one is unlocked at level 2.

Build limit: There can be a maximum of 4 Garden Beds in your kingdom at once.



Hover on the different orders below to see the upgrade costs
Strawberry
Rainbow Mushrooms
Curly Onions
Zucchini
Ad blocker interference detected!
Wikia is a free-to-use site that makes money from advertising. We have a modified experience for viewers using ad blockers

Wikia is not accessible if you've made further modifications. Remove the custom ad blocker rule(s) and the page will load as expected.