Rainbow Mine
Information
Placement Timer
5m
Drops
Magic Ore, Amber, Amber Insect, Platinum Nugget, Cat's Eye, Rune Crystal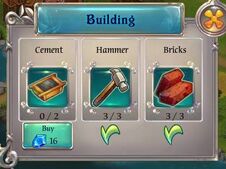 For the final type of kingdom resource, we have the Rainbow Mine. It gives the resource: Magic Ore

. The Rainbow Mine is available for purchase at Castle L4.  A second mine can be purchased at level 6. A third Rainbow Mine can be purchased for building at Castle Level 7. 
Hover on the different orders below to see the upgrade costs
Ad blocker interference detected!
Wikia is a free-to-use site that makes money from advertising. We have a modified experience for viewers using ad blockers

Wikia is not accessible if you've made further modifications. Remove the custom ad blocker rule(s) and the page will load as expected.